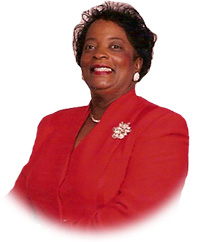 As Senior Pastor of Faith Tabernacle Oasis of Love International Church in Chapel Hill, North Carolina, Dr. Ila D. McMillan is a pastor, preacher, teacher, and prophet, who finds the Word of God a vibrant force that can empower the believer to live an abundant life in Jesus Christ.
Dr. Ila D. McMillan was born in Lenoir, North Carolina and is one of 8 children. At an early age she came to know Jesus as her Lord and Savior and was baptized with the Holy Spirit. She is the daughter of the late Rev. Mary Rose Dula and the late Kenneth Dula Sr. She began her education in the Caldwell County School System, and later attended Caldwell Technical Community College for nursing.
She was chosen and ordained by God along with her husband, the late, Pastor Robert E. McMillan in May of 1972. The Lord mapped out the plan for their ministry by clearly stating their responsibility would consist of "Bringing Israel (God's people) back to Him". Gifted and anointed for such a time as this, she flows heavily in the gifts of healing, miracles and the prophetic anointing. Having a divine calling from God to preach to all nations, Dr. McMillan has extensively traveled the length of the United States, as well as Israel, Russia, Africa, and India.
Dr. Ila McMillan was commissioned by the Lord to further her Christian training. In so doing, she completed her Doctorate of Theology in Christian Education from Trinity Christian University in New Orleans, Louisiana in May of 2000.
Through Bible-centered preaching and teaching that emphasizes meeting the needs of the entire Body of Christ, Faith Tabernacle Oasis of Love International Church has many areas of ministry. Under Dr. Ila's guidance, these ministries have been instrumental in helping many people make a decision for Christ. This has contributed to Faith Tabernacle Oasis of Love International Church being one of the most anointed and powerful churches in the area.
Dr. McMillan has a gift of communicating Godly principles from the Word, particularly in the areas of faith, healing, prosperity, and spiritual growth. Likewise, Faith Tabernacle continues to evolve in meeting the needs of the growing church body. Plans are underway to further expand this ministry through continued outreach, television, music production, literature, and an educational facility.
Dr. McMillan loves to collect antiques, watch classic movies, traveling and enjoys spending time with her daughter, 5 grandchildren, and long-time friends.